App has been published on January 29, 2015!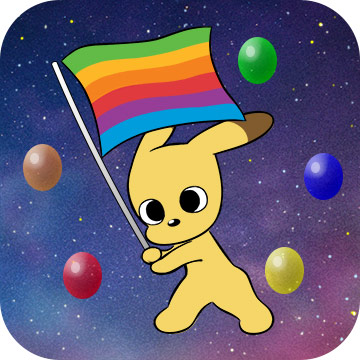 This is an encampment game.
A side dominating the space wins.
Hanamaru the younger brother of Usainu is jumping and hopping in a space freely and easily. Hanamaru is the very the other side of this game. Could you try to inflate a balloon avoiding Hanamaru?
If Hanamaru feels the narrowness and difficult to jump and play any more, he hangs out a white flag. If so, you win.
If you touch a screen, a balloon generates centering on there. And if you keep touching just as it is, the balloon keeps inflating until you release your finger from the screen.If a balloon becomes a certain size, it can fix to the space and will deprive the freedom of Hanamaru.
Balloon will burst if Hanamaru plunges in the middle of inflating, and you lose. If Hanamaru plunges in the inflating balloon, you should immediately release your finger and throw it away.
You can continue the game instead of not losing the freedom of Hanamaru, the game is still not settled.
If Hanamaru does not surrender within the time limit, you lose.Hanamaru waves the rainbow flag of signs of victory.
If balloons occupies space enough Hanamaru is fed up within the time limit, you win.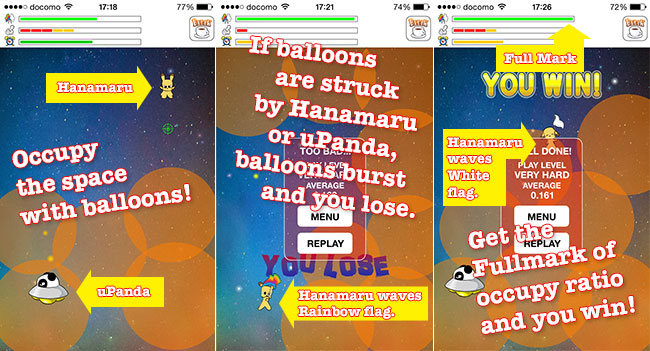 Difficulty level of the game is available three modes which are EASY, MEDIUM and HARD, but you can only play EASY mode at first. If you clear the EASY mode, anew you become able to play MEDIUM and HARD mode. Besides if you clear the HARD mode, the door to a new world opens…, could be?
If the difficulty level becomes to MEDIUM mode and more, uPanda, a member of the family, aboard the UFO appears as a bother character. If inflating balloon touches to him, it bursts and you lose. Movement of uPanda UFO becomes to complicate as difficulty level increases.
The number of times which can inflate a balloon, that is, the number of times to touch the screen has a limit and it depends on difficulty and it depends on difficulty level of the game.
The higher the degree of difficulty, the shorter time limit.
The size fixed in space of a balloon depends on degree of difficulty.The higher the degree of difficulty, the larger the balloon has to be. Fixing on the space will make a balloon become semi-transparent.
Come on, let's aim at the balloon occupy master!
App has been published on January 29, 2015!