App has been published on October 14, 2015!
OUTLINE
Fly Honmaru the hero of this game as far as possible. Usainu Honmaru can fly by ear flapping. The farther distance Honmaru fly while not landing ground, the higher score you can get. If Honmaru lands the ground, game is over. Honmaru can flap as long as there is vitality point shown in red belt upper of the screen. If Honmaru hits a bothering character on the way, vitality point is reduced. There are also recovery items of vitality point on the way. If you have jump counts, you can avoid gameover by jumping a little when Honmaru lands the ground. There is a case appearing a recovery item of jump counts on the way, jump counts is increased if you take it.
BASIC OPERATION
There is 3 basic operation.
TAP
RIGHT SWIPE
LEFT SWIPE
If you tap, Honmaru flaps and floats on certain quantity. A right swipe makes him go forward instantaneously, and a left swipe does backward. A tap operation consumes a point of vitality, by contrast the swipe operation does not make reduce it.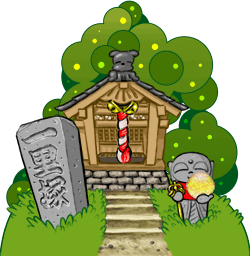 MILESTONES
Milestones are placed on the journey of HONMARU each uniformly distance. There is Jizo who has an orb in a milestone. If Honmaru gets the orb, then he gets a good. There are several types of orb. Those are different in effect respectively, and you can distinguish by color. Recovery of jump count is one of them.
ENJOY THE FLIGHT!
The top 20th is preserved in the rank table. Let's aim high-score and the top of rank. Now, please be relaxed, and enjoy the flight.
App has been published on January 29, 2015!