App has been published on October 15, 2014!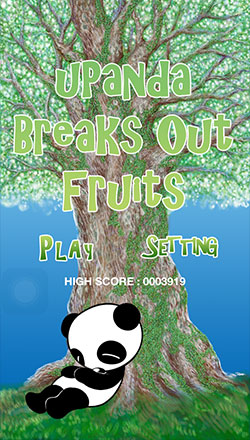 "uPanda Breaks Out Fruits" is a variation of the Break-out game. Therefore Rules of this game is same to that of the Break-out.uPanda the hero becomes the ball and eats to break out a block of fruit.
Please be bouncing uPanda so as not to fall to the ground to control well the paddle.
Play will start the ball is launched from your paddle by tapping the screen.Then the center of the paddle will move to that position which you tap the screen.In this way, please bounce the ball well.
If you want to pause the game during play, you can pause when you tap the spider. To resume play when you tap it again.
There are 10 kinds of fruits overall, and it changes to each stage. Can you see the fruit of all?
If you takes a long time to clear the stage, it becomes difficult because Upanda faster gradually. Speed ​​of Upanda Back to the original if you clear the stage, but Speed ​​at the start going up each time up the stage. And it becomes difficlut because the line of fruits is added one line each time to clear 10 stages. So clear the stage becomes difficult as up stage goes up!
You can get 5 points if Upanda bites fruit, or 1 point wherever Upanda may collide with. You have three Upandas first and if it falls to the ground one decreases, but it oneup by 500 points.
Come on, let aim the best score!
The YouTube video embedded in the left is what It has taken from playing this game actually.